Chevron Finish 2nd at UK Nationals 2017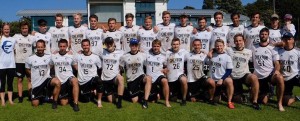 Chevron competed at the UK Ultimate National championships in Birmingham over the August Bank holiday weekend.
The opening day saw wins against Flump, Manchester and Brighton. Leading to power pools on day two. Wins over Devon and Pelt meant Chevron reached the semi finals. A semi final win over Ranelagh meant Chevron reached their 5th consecutive national final against Clapham. After a strong start by Chevron, Clapham over came our tight defense to win 15-11.
Our games v Manchester, Ranelagh and Clapham can be seen on Fanset.com here: http://www.fanseat.com/event/3746
Be the first to comment!