History
Chevron Action Flash is in its 22nd year, and stands as the longest running UK Ultimate club still competing at the highest level.
In 1993, Master's student Ben Rainbow founded an Ultimate Frisbee Team based at Manchester Metropolitan University. The team became known as Fingers 6 Steps Ahead of Our Minds, or Fingers 6 for short, the name originating from the title of a song by the never-popular free-noise group Truman's Water. Rejected names included 'Bullet Baxter', 'Flaky Pastry', 'Turnip Farm' and 'Finn Family Moomintroll'.
Fingers 6 rapidly became a successful team, thanks to the enthusiasm and commitment of the players, and the coaching of two greats of UK Ultimate, Doug Milne and Harry Golby.
By 1995, most of the students who had formed the majority of the first Fingers 6 cohort had graduated. At the team's Annual General Meeting that year the decision was taken that Fingers 6 should remain as the ongoing University team, and a new team of graduates and friends was formed. At a subsequent meeting the team was christened Chevron Action Flash, after a song by the never-popular indie pop outfit Comet Gain. Rejected names included 'Meat Meat Meat and Meat' and 'Vidéo Bébé'.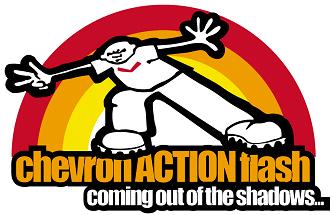 Chevron has continued ever since, originally based in Manchester, but also with players hailing from the South West, Midlands and now London, the team ethos has been to focus on playing with the kind of people the players want to hang out with, and to strive to reach the highest level of ultimate possible. 90's rivalries with Catch 22, UTI and Shotgun Wedding gave way to more recent struggles against LeedsLeedsLeeds, Fusion, Fire of London and Clapham Ultimate. Chevron has finished as one of the top four teams in the UK for over 15 consecutive seasons and has earned the status of one of Europe's most successful elite level teams.
The team has always had a policy of bringing exciting new players through the club. Many of the leading lights in the top echelons of current UK ultimate scene have been Chevron players at some point in their career. The club has developed strong links with the Great Britain junior system, with current players volunteering as coaches. Many of Chevron's current roster have progressed from Great Britain's junior ranks.
In recognition to the contribution that Chevron players have made to both the Club and UK ultimate, their shirt numbers have been retired permanently. These legends can be seen in the hall of fame.
See our tournament results since 1997 here.
See our hall of fame here.